Guest Letters from Luxury Yacht Charters
Guests Testimonials



Dear Andrew,

All those years ago, 2001, you sent me a package with color brochures and that seed was planted to do a private yacht charter. Those brochures became my bucket list of things to do. I hung on to your color brochure for 8 long years, before I could make that first dream come true.

And now, 17 years later, I'm holding my charter agreement for my third charter, and this time to the Greek isles. I am so excited to get to continue living my dream and I am so glad I hung on to your brochures and kept it in my bucket list.

Andrew, thanks for being so patient and professional in making all the arrangements for me and my family. I always know I can count on you to arrange a spectacular vacation.

Thanks again,
Alan
TEXAS.
July 7, 2018



Dear Captain Andy,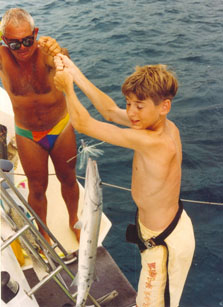 Darren on Yacht Splendidum
It has been nearly a decade and a half since my family and I stepped off the deck of Splendidum for the last time following an amazing week exploring the beautiful Virgin Islands. I was still a boy at the time, and that was my first trip to the tropical paradise that is the Caribbean. I still refer to that trip as "the perfect vacation" - and it certainly was for me. I have grown up with a love of water and any activity based around it, and also a particular fascination with the ocean. I could not have imagined a more exciting experience for a boy my age (then 13) than staying a week aboard a yacht and exploring the crystal clear waters and pristine beaches of the Virgin Islands.
I remember that trip aboard Splendidum as though it were yesterday, certainly because I have thought so often of the experience and shared many stories with friends and family over the years. It truly was the perfect trip, and I have carried the memories with me as I've grown up, always hoping to have the opportunity to re-create it at some time. I have visited many places throughout the world, from northern Europe to the southern Pacific, but a yacht charter in the Virgin Islands has remained the one trip I feel like I must experience again.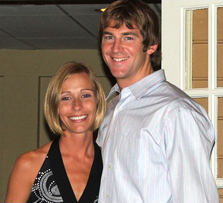 Darren and his Wife
My wife and I have been looking forward to booking a charter for some time now. It has been an absolute pleasure re-establishing contact with you and Gaile, and working with you to make sure our charter is as enjoyable as the one you hosted for my family all those years ago. The map you sketched of our journey through the islands hangs in a frame on the wall of my family's lake cabin here in Missouri. It often sparks a conversation about the many beautiful locations we visited aboard Splendidum. I can't wait to return to some of those same places and to share the experience with my wife and friends.
I have attached a recent picture of my wife and me. As you can see I've grown some since that skinny kid who caught the barracuda.
All of the information and guidance you have provided thus far is extremely appreciated. We hope to have our trip booked soon, and if it is anything like the trip aboard Splendidum, it will again be the perfect vacation.
Best regards,
Darren Bevard
Dear Andrew:
We did not realize the magnificent impact you had on our charter onboard Motu. Yes, you said the catamaran was magnificent, and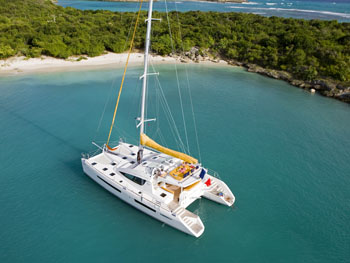 Danny and Jeff were exceptional; we did not realize how right you were. Motu and crew were fantastic in all respects. All 4 couples in our party are well traveled, with multiple vacations each year. We all agree that this was the best, well, one of the best, vacations we have ever enjoyed. The thanks goes to you, Andrew, and to Jeff and Danny
Every aspect about Motu was well above our expectations. The crew; the catamaran itself seemed absolutely brand new; it was well maintained and spotless in every regard. The crew, Danielle and Jeff, were very friendly, accommodating and patient with all our requests. Their service was excellent, and they obviously paid attention to the requests we had made prior to boarding Motu. We had this feeling that the crew was on the lookout at all times to see that we were enjoying ourselves; this crew did maximize our vacation. Here is an accomplished Captain and a world-class chef doing what they do best. Our group is very demanding. We were consistently impressed and looked forward to each meal with anticipation; just "outstanding", impeccable meals served with the right wines. hmmm!!!!
Yes, we will be booking Motu, Danielle and Captain Jeff in the future. Faithfully,
Matt P. and Party
May 2012
Andrew we do multiple vacations each year and this has been the best of all of them.
-Dr Denis W. - Kansas City MO.
My grand children thanked me 100 times during the charter, Wonderful Andrew, Thanks.
- Lillian V., 79 years old.
Captain Dave & Desiree:
What a special trip you've provided for us this week. You both have such a gift for making us feel at home in your home, and applying such personal touches to make it feel designed "Just For Us".

From the history lessons of the region, to the spectacular diving and snorkeling, through perfect meals and relaxing evenings, we could not have imagined a more perfect vacation.

Thank you for taking such time with Carol to certify her in scuba, with Patrick to expand his curiosities, and with Joan to make her at home in your underwater world. We can never repay you for this fantastic adventure.
- Hector H.
Click here

Captain Dave & Admiral Dez:
From Joan (6 years old) -
I liked the baths!!!
From Patrick (7 years old) -
I liked the pirate caves!!!
From Carol (14 years old)
Thank you Captain Dave, diver 3rd class Carol, Padi
.
Thank you for all you did for our family and making it a wonderful vacation
.
All our best. -Peggy F.