Luxury Yacht Charters - Scuba Diving Sites
Scuba Diving in the
Virgin Islands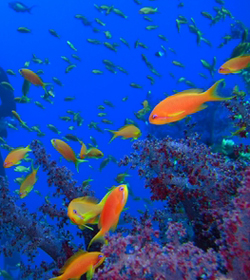 In 1997 a magazine came out with a gorgeous "In Depth Guide for Scuba Divers in the BVI". This guide was 8x11" all in glossy color, consisting of eight pages including a front and back cover. At the time I got hold of 3 and quickly sent them out to scuba divers and could never get any more. The entire book had gone out of print. Everything I did to get copies of this dive book failed. I called England, the USA, and anywhere else I could find who could point me towards getting fresh copies. The printer said it was firmly out of print. Reluctantly, I gave up looking for this scuba guide.
In 2002, I was at a little shop in the BVI, and I noticed a shelf with 84 of these (old) gorgeous scuba dive booklets. I purchased all 84 copies, and the salesman gentleman thought I was daft. Today is May 2012, and I count that I do have 18 of these scuba booklets still in our office. Yes, I have been giving these booklets to the scuba fanatics, so if you want one for your trip, kindly ask for one. It is the best scuba dive guide I have seen. We do have other scuba dive guides, but none has impressed me more than that old one. All the script below comes directly from that dive book.
What follows are the major scuba dive sites in the British Virgin Islands where I lived and scuba dived for 5 years.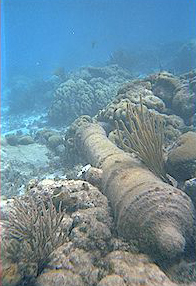 1). The Rms Rhone: Possibly the most popular, and made famous by the film "The Deep". Lying in three distinct sections, this 310-foot twin-masted steamer is regarded as the major scuba dive by divers, The RMS Rhone is more popular today than she was in real life. She lies in 9-24 meters with her stern and impressive single, bronze propeller commanding the shallower waters. Her forward section, with foremast and classic bowsprit, lies on its side on the deeper slopes. Marine life is abundant, in particular inside the hollow bow structure, a cave-like area that transforms day into night when you are inside, but with a safe exit always visible. At night the Rhone comes to life when the polyps in the coral growth that envelops her hull open up to feed in the safety of darkness. Octopus, eels, shrimp, rays and squid are all common visitors as well as permanent residents. Try diving in the early morning or late afternoon to avoid the high-season boats. Noon can slo be a quiet time.
2). Angel Reef, Norman Island: With its shallow canyons rising to the surface, and rock-and-coral bottom with a grassy bed bordering the reef, this site is a crossroads for species from different habitats. Nudibranchs, blennies, jawfish, soldierfish and an assortment of angelfish are common sights, as well as octopus, the occasional snake eel and southern and eagle rays.
3). Painted Walls, Dead Chest Island: With five finger-canyons covered in colorful sponges and soft corals, this shallow (12m maximum) site is visually satisfying, as the light plays through the arches and crevices. I have been chased here by octopus and have found the well-camouflaged frogfish. Squid patrol this area daily.
4). Alice's Wonderland, Ginger Island: Some of the best coral formations in the territory lie just offshore here, in depths of 12-23m. Staghorn corals piled in layers have created a fairytale landscape of coral stacks up to 7.5m high. The area also has a healthy grouper population. Not all dive operators come here, certainly not on a daily basis, making this still a virtually untouched dive site and an amazing location for a night dive.
5). The Indians: These three cone-shaped rock formations just off Norman Island rise from 12m of water to about 9m above the surface, and are known as a great location for macro photography. In addition, shallow pools on the rocks' eastern side fill with silversides during the summer, inviting a feeding frenzy of rays, barracudas, groupers, boobies and pelicans that usually continues until the last of the million or so small sardine-like fish are devoured, a process that may take three to four weeks.
6.)
Blonde Rock, Salt Island Passage:
This is the shallow reef that the Rhone tried to miss (and did, only to later hit Black Rock on Salt Island which sealed its fate) during the hurricane of 1867. Blonde Rock is a coral ledge with many caves, crevices and deep holes. Given this description, only one creature comes to mind – lobsters, and if you want to see them this is the place. Late afternoon and early evening is best. Spiny lobster, slipper lobsters and all sorts of crabs and shrimp rise from the endless books and crannies. Remember, though, there is no lobstering allowed in the BVI's, and most definitely not on scuba. Her Majesty's Prison is not a nice place.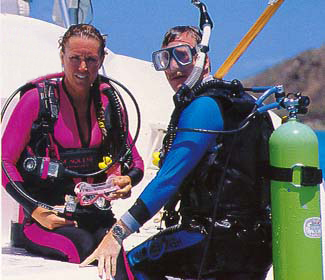 7). Bronco Billy's, The Dogs: Cousteau named this site, one of his favorite locations in the BVI's, during his summer programs for children, held on Mosquito Island. High arches and deep, cutting canyons create a maze for exploration. It is also one of the few places where I have consistently found the elusive clingfish. Look under the many smooth surf-polished rocks at the entrances of the north-side caves.
8). Rhone Reef: The first time I dived here I thought it would be just another "tourist trap" creation, a reef close to the world-renowned wreck. Well, I was wrong. Time and time again this site, located about 45m to the south of Black Rock, Salt Island and just behind the Rhone's propeller, has proved to be one of the most beautiful locations for macro and close-up wide-angle photography. Literally hundreds of fish specimens congregate here in large numbers, including drums, high hats, angelfish, copper sweepers and more.
9). The Marie L and Blue Chromis Reef, Cooper Island: This scuttled 90-foot freighter lies on the edge of a 27.5m sandbar where small sharks patrol a mass of iridescent Chromis. Visibility here usually exceeds 90 feet. Grass eel colonies blanket the sandy bottom surrounding the wreck.
10). The Rhocus, Anegada: This wreck went down in the shallow waters of the horseshoe reef while carrying cattle bone destined to become fertilizer. There is an eerie feeling to this site scattered with large mammalian bones and populated by large fish. It is an isolated site, far from shore, and is affected by heavy surf, so caution during bad weather is a must.
This is a selection of my personal favorites in the BVI's. Many of these are not official dive sites and may or may not be found in books and area guides. Most are very shallow and could be snorkeled, though you will probably prefer tanks if you are going to take photographs. They are all worth exploring.

1). Mangrove Ledges, Beef Island: This is just off Queen Elizabeth Bridge, which separates Beef Island from Tortola. As a breeding ground for the territory's fish population, mangroves are a magnificent place to explore. A good selection of mangroves outlines this narrow passage.
2). Large Pelagics, North Side, Tortola.: Anywhere in the blue water off the north coast of Tortola you'll find large tiger sharks, marlin, sailfish and other pelagics. There are no scheduled trips to dive this area, so you will have to charter a boat.
3). Tarpon Frenzy, Great Harbor, Peter Island: During the summer months and part of the winter, silversides fill the shallow harbors on Peter Island. Tarpon, a big, silvery game fish, come here to feast in large, aggressive schools.
4). The Baths: This area on Virgin Gorda is renowned for its natural rock formations, but few explore the shallow waters surrounding these boulders. I have spotted chain morays while exploring here, a rare creature elsewhere in the BVI's.
5). Jellyfish Lagoon, Tortola: Palau's jellyfish lake it's not, but it is nevertheless exciting. This unusual site is just off the road before Prospect Reef Hotel, Tortola. You will find upside-down jellyfish there, as well as mangrove upside-down jellyfish and other strange-looking creatures.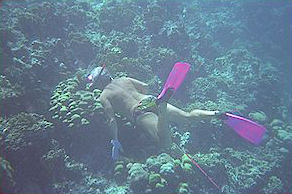 6). The Caves: On Norman Island there is a set of three caves to be explored. It's a great place to find nudibranchs, and squid are abundant.
7). Anchors and chains, Great Harbor, Peter Island: Used as a safe anchorage for more than 300 years, the bottom of the harbor is littered with huge link chains and enormous anchors left there after failed attempts to retrieve them. The average depth is 20m, with visibility at 15-20m.
8). Brown Pants, Peter Island: This is only diveable in the summer months, and is a huge cave facing the south side of Peter Island. Sharks like to sleep in this usually undisturbed area.
9). Snake Eels, grassy Fields, Salt Island: If you like snake eels (aka gold-spotted eels), this is the place. The dive is north of the Rhone Buoys in the sand and grassy area. Just keep a sharp lookout. The eels are harmless.
10). Mercurio's Rocks, Jost Van Dyke: In the middle of nowhere these rocks rise to just under the surface. Large groupers as well as pelagics abound here. It was here that I was literally "hugged" as I was coming to the surface, by a 90kg loggerhead turtle.
<< Back to Charter Information