Snorkeling in the Caribbean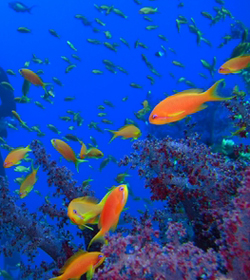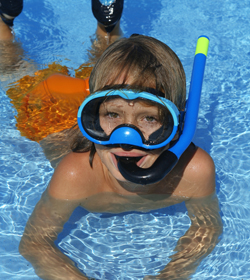 SNORKELING in the Caribbean and Virgins Islands
Take full advantage of the warm water (almost the same temperature as your body) crystal clear tropical Caribbean Sea. No silver shock when you enter the water; it is simply inviting you to come on in and have fun. Your luxury yacht vacation provides the best way to get 100 percent out of your charter. This adventure is far too important for you to have an agent compromise your vacation, so select the best person for the job, no matter what size your yacht, 60 or 600 feet. It is your broker who provides information to make all your yacht charters better than the rest.
DANGERS.
There are very few when on board a sailing yacht vacation.
Be sure to put on sunscreen before entering the water, as the water tends to hide sunburns and therefore could leave you with a false sense of security. There is very little danger for the wise snorkeler. Number one: have your captain snorkel with you every time you venture into the water. The fire coral is not as big a problem as it is made out to be. If you touch it with your tummy, back or hands, it will burn for a little while and stop. Jellyfish are around 2-3 days per year, and their stings are not very big. Smaller jellyfish have even a smaller sting; neither were ever a problem; just swim around them. I never saw the "bad" jellyfish in 5 years of snorkeling.
Barracudas: These proud fish look as if they are targeting you when they simply look at you, so keep away from barracuda. In 5 consecutive years of living there, barracudas were never a problem, but they are something not to take lightly.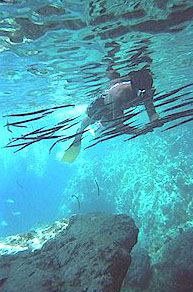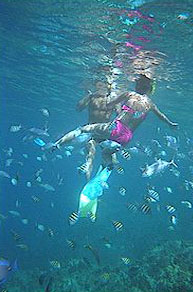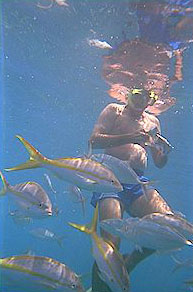 Stingrays have never been any issue at all; they are like turtles, shy and unassuming and not to be fed by humans. Spiny blowfish are also timid and shy; one 62-year old gentleman put his finger into the mouth of a blowfish, and he lost the skin around the tip of his finger. That fish could have bitten through the bone, so do not be silly; these are all wild animals.

Possibly the biggest danger for vacationers is the spiny black urchin. When touched, their spines shoot into your flesh. One remedy is to place your hands in milk for a while. These barbs are very soft and cannot be pulled out with a needle, so your body simply has to work them out of your hand as best as possible. Neosporin and elastoplast to cover the wound are all you can do, and the pain remains for a very long time. Be careful of these black urchins. In 5 years, we only had one lady who we told not to walk into the black urchin patch and she did. Snorkeling at night, rather not. Now that these minor dangers are noted, let's go and have fun on board your luxury yacht.


Many of the islands are edged with mangroves. The roots dip into the water and offer protection for all species of fish life, invertebrates, baby turtles, etc. I feel this is a second protection area for young sea life; the first protection area is the coral reefs themselves. The coral reef and all the life related to the coral is what keep all of us intrigued.

One of the world's safest barrier reefs to snorkel is Couquelan Reef, 200 yards east of the Bitter End Yacht Club, and yet few people venture here to snorkel. Yes, they snorkel on the inside of this barrier reef, but it is the outside of this barrier reef that is alive with rainbow colored fish, sponges, and soft and hard coral. Coral faces the deep blue sea because the nutrients (food) come from that direction. So this is the "live" side of a barrier reef, and a luxury yacht can drop anchor very close.

The Virgin Islands only have 14-16 inches of tide change between spring low and spring high tides. This means very little undertow, if any, no large tracts of water moving in and out. This means swimming here is very safe indeed. The British Virgin Islands are possibly the world's safest location to swim, scuba and snorkel in deep water, knowing that there are very few currents. Naturally, I recommend that your captain take you snorkeling each time.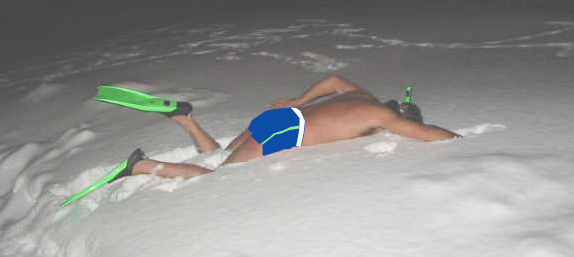 'Snowkeling' in Canada
If you are snorkeling in the snow then something is wrong.
Here is what you will see on the "live" side of this barrier reef: a virtual wall stretching up from 5 feet to 45 feet. Visibility is 70 feet in all directions, teeming with rainbow colored fish, pastel colored corals and sponges; you immediately know why it is called a barrier reef. With this visibility in all directions, you can see there are NO sharks or other dangers out there.. Your comfort level rises, and you settle down to exploring Mother Nature at her very best. These personal snorkeling yacht charters in the Virgin Islands may encourage some guests to purchase a yacht.
WHAT YOU WILL SEE during your Caribbean yacht charter. Your captain or guide will point out many items you miss. His trained eye picks up a small herd of red seahorses, the male holding and protecting his young. A lone sunfish 1 foot in diameter keeps his distance from your group, with his beady eye locked on you humans. A soft purple fan coral holds a flamingo tongue. Touch the mantle, and this pretty colored leopard-spotted mantle retracts to show a white shell. A large turtle swims casually past in the far distance. In the distance, a spotted eagle-nosed ray digs his nose into the soft sand, creating a furrow behind while touching under the sand for a fresh live angel shell to eat. His mate is close by, doing the same, tails stretched out in a long line 20 feet behind them.
Your yacht charter captain points out a slipper lobster, as well as those large Caribbean spiny lobsters. These are nocturnal but can be seen during the day. Butterfly fish and parrot fish go about their daily routines, giving humans a second glance. Pygmy conch and conch can be seen on the seabed as the odd sand dollar glistens in the bright sunlight. A section of the barrier reef drops to a forest of staghorn coral—real pretty!
Fan worms pop in at the first sign of danger and slowly ease out to full bloom afterwards. Red-banded coral shrimp show themselves to you as you go by a section of yellow live staghorn coral. Purple and yellow fish keep close to their homes, the odd black and white drums circle their protected nooks. Keep an eye open for large shells which move, live truppet shells, pygmy conch and conch shells; hermit crabs abound. Your yacht charter captain will point all these out to you as you glide past.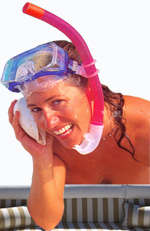 Children spend many hours each day snorkeling; the life they see underwater is so very different from what they have ever dreamed of. Underwater to most children is an unknown world which they wish to explore to the hilt. This is good clean fun for them, so encourage it.
Although TV's are always requested on board all charter yachts, they are seldom used. Every night without fail, the children enjoy their dinner and go to bed, knocked out from their action packed day and the clean fresh air taken into their bodies. I have never heard of any being bored on board a private Virgin Islands yacht charter. Adults are also mesmerized by the way life goes on and off underwater, and the crewed charter yacht is the very best way to enjoy this BVI vacation. The trained eye picks up far more than the novice, but it is wonderful to be a novice in underwater wonderland, provided you know you are very safe indeed.