Catamaran STOP WORK ORDER
At Barrington Hall we provide yacht charters around the world on motor yachts, catamarans and monohull sailboats. The Catamaran listed below, STOP WORK ORDER, is one of the many yachts we offer for charter. Please contact us for up to date information on STOP WORK ORDER or any other yachts in your desired location.


STOP WORK ORDER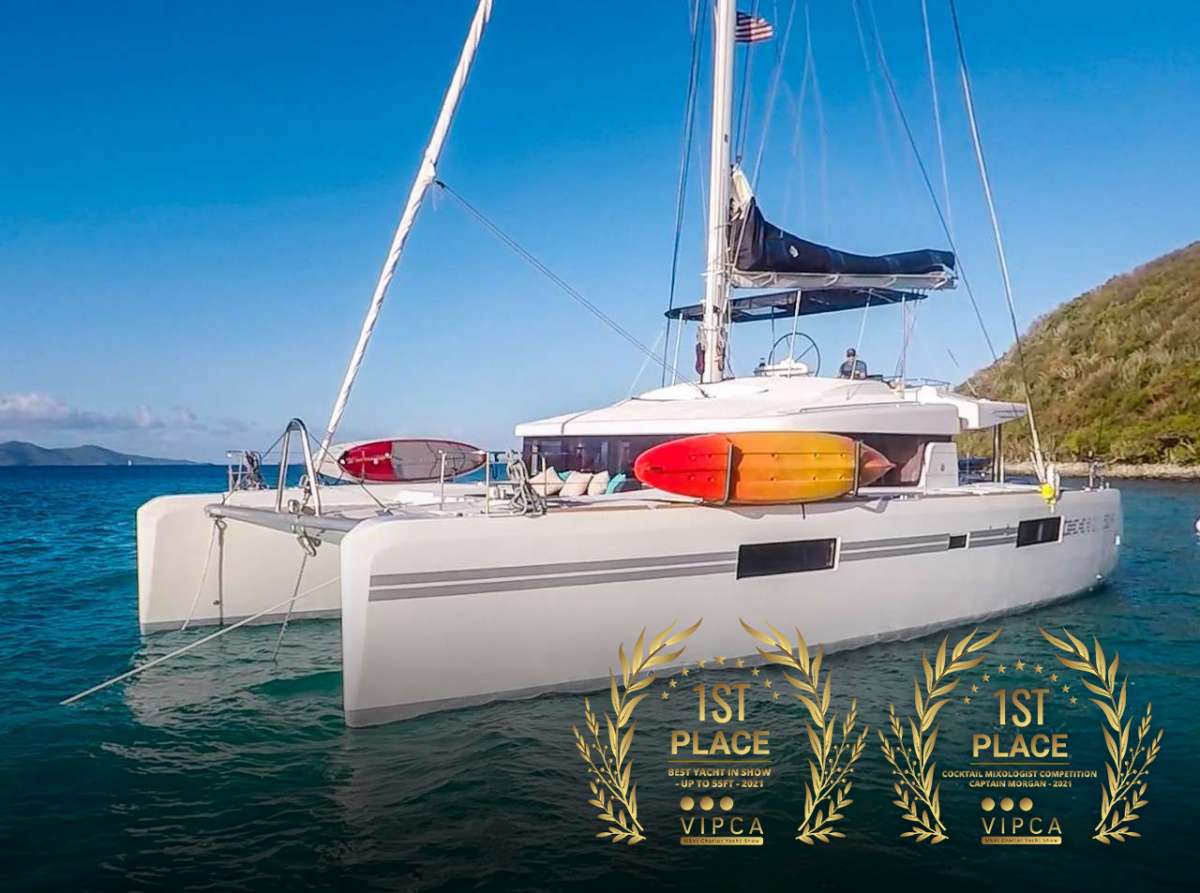 Low Price: $12,000 High Price: $24,000
Accommodations: 5 Cabin Version:
4 Queen Staterooms and 5th Bunk bed Stateroom. Normally Crew will take the bunks, unless requested at booking contract.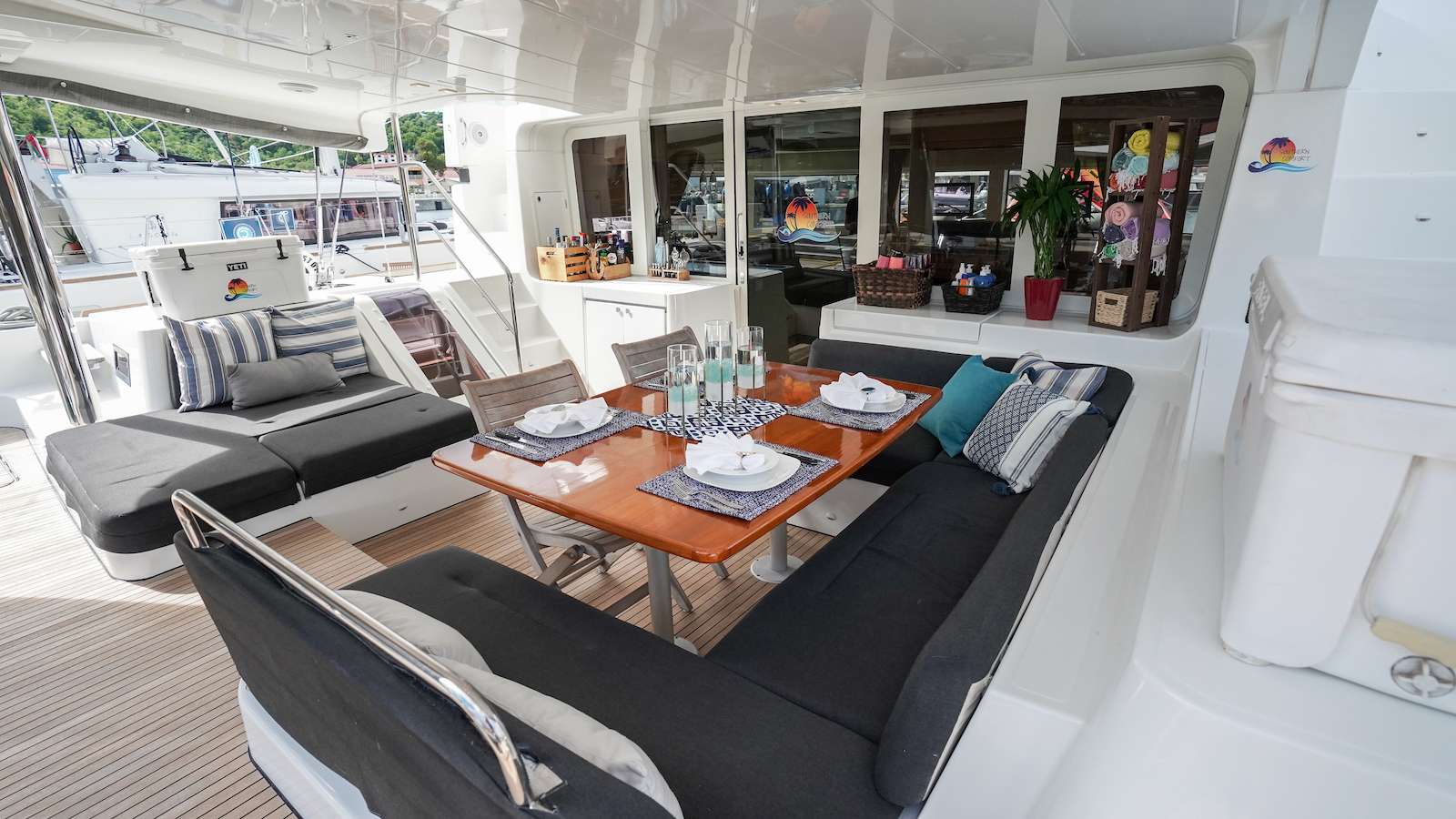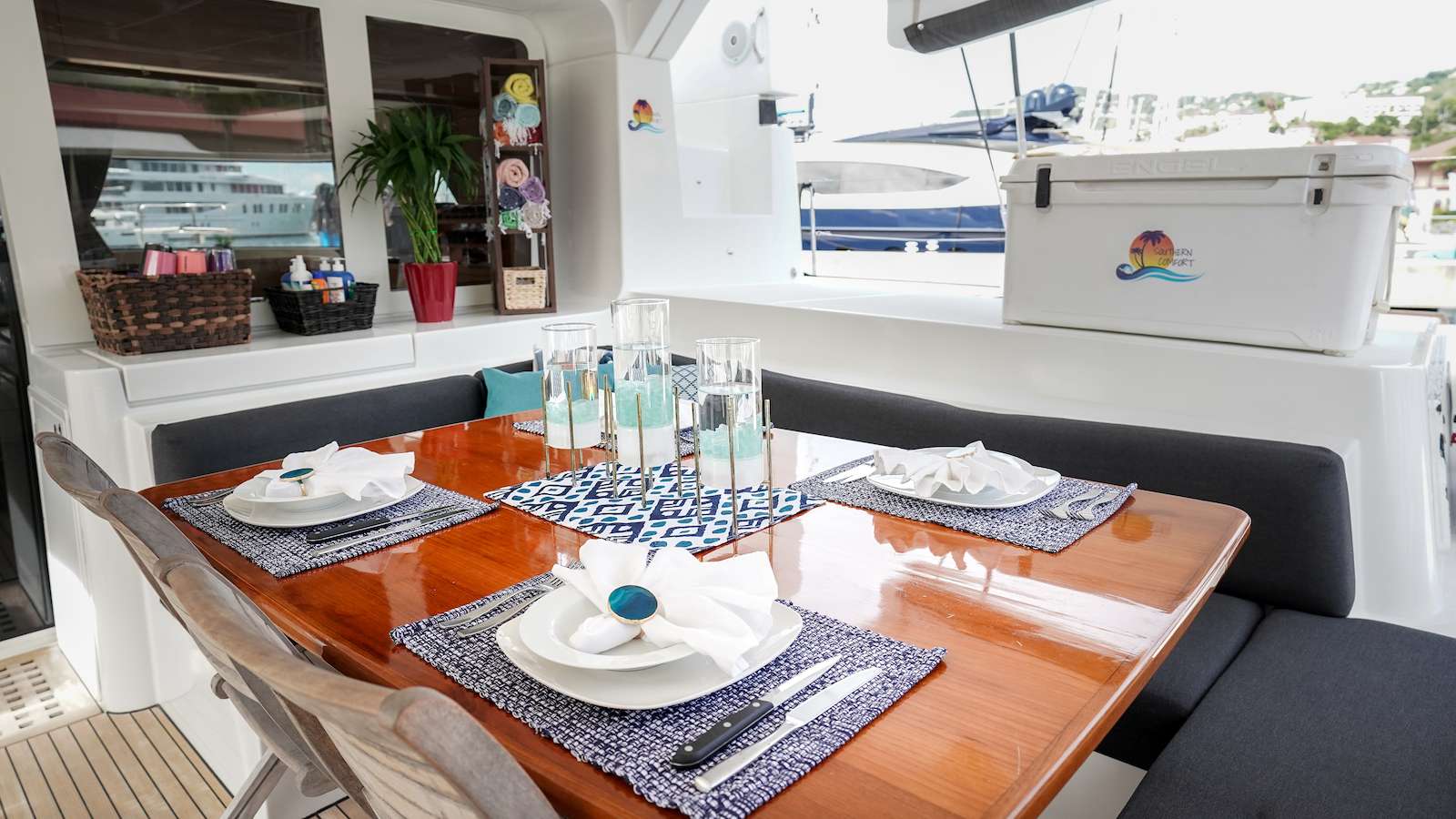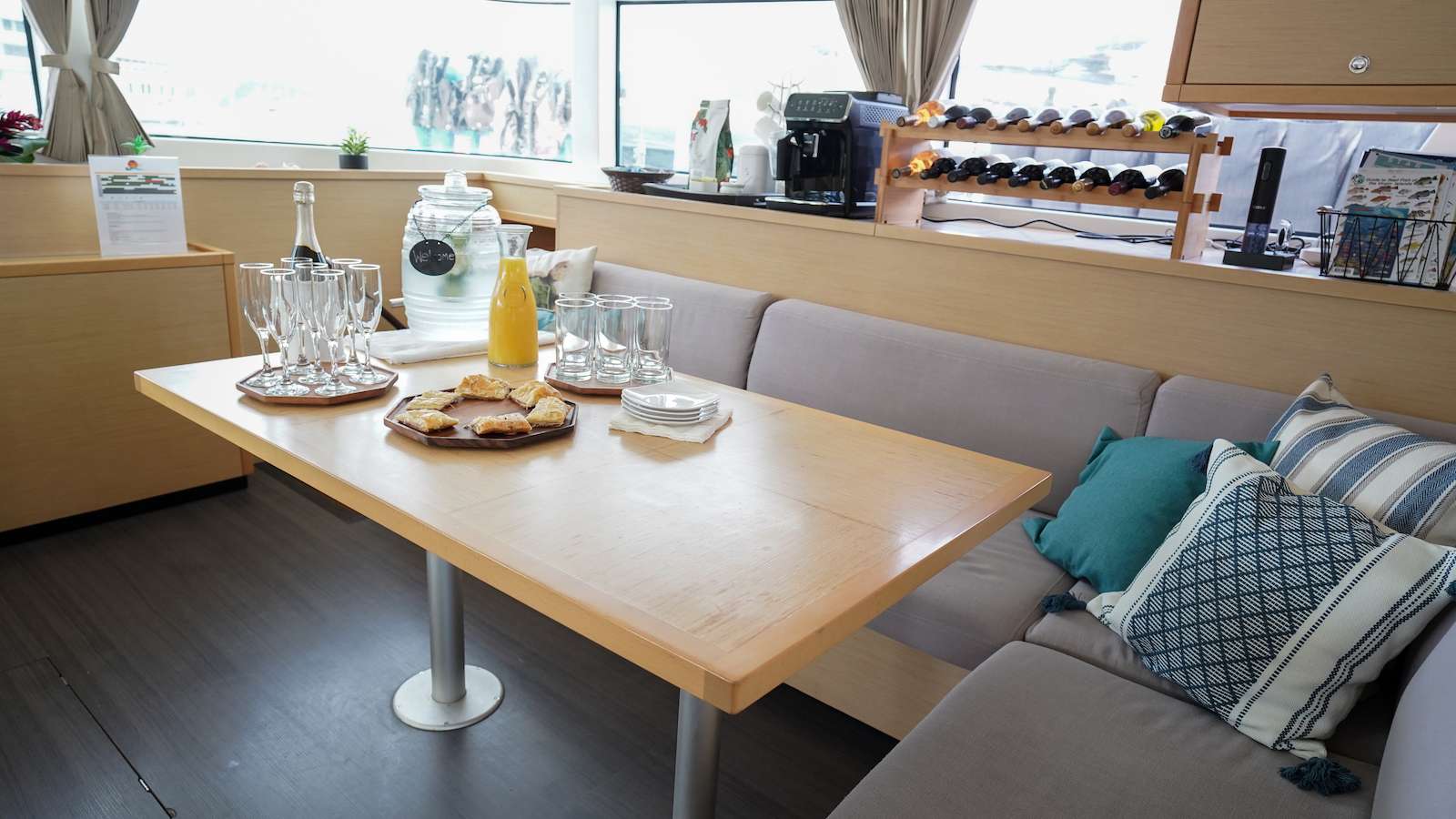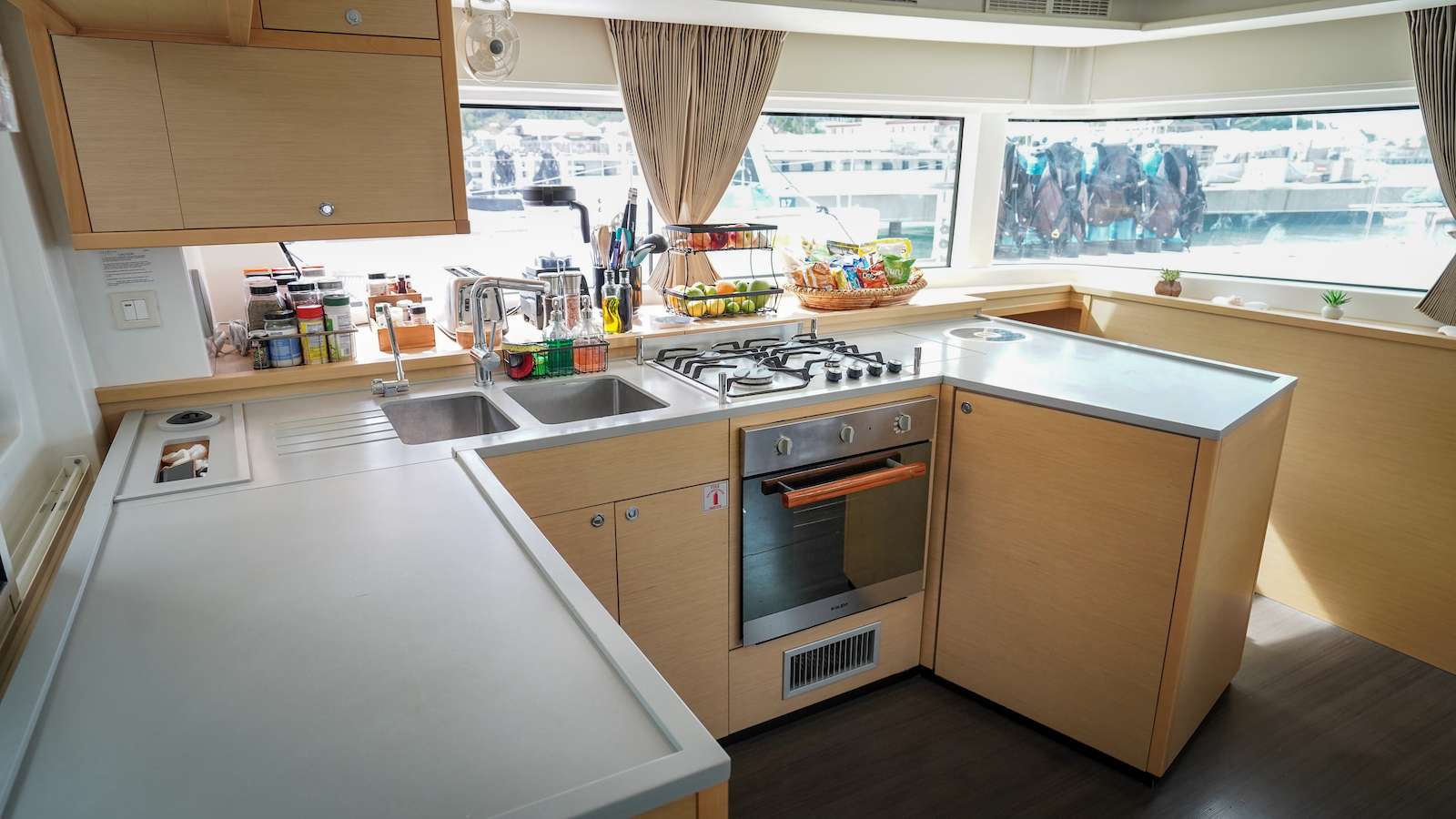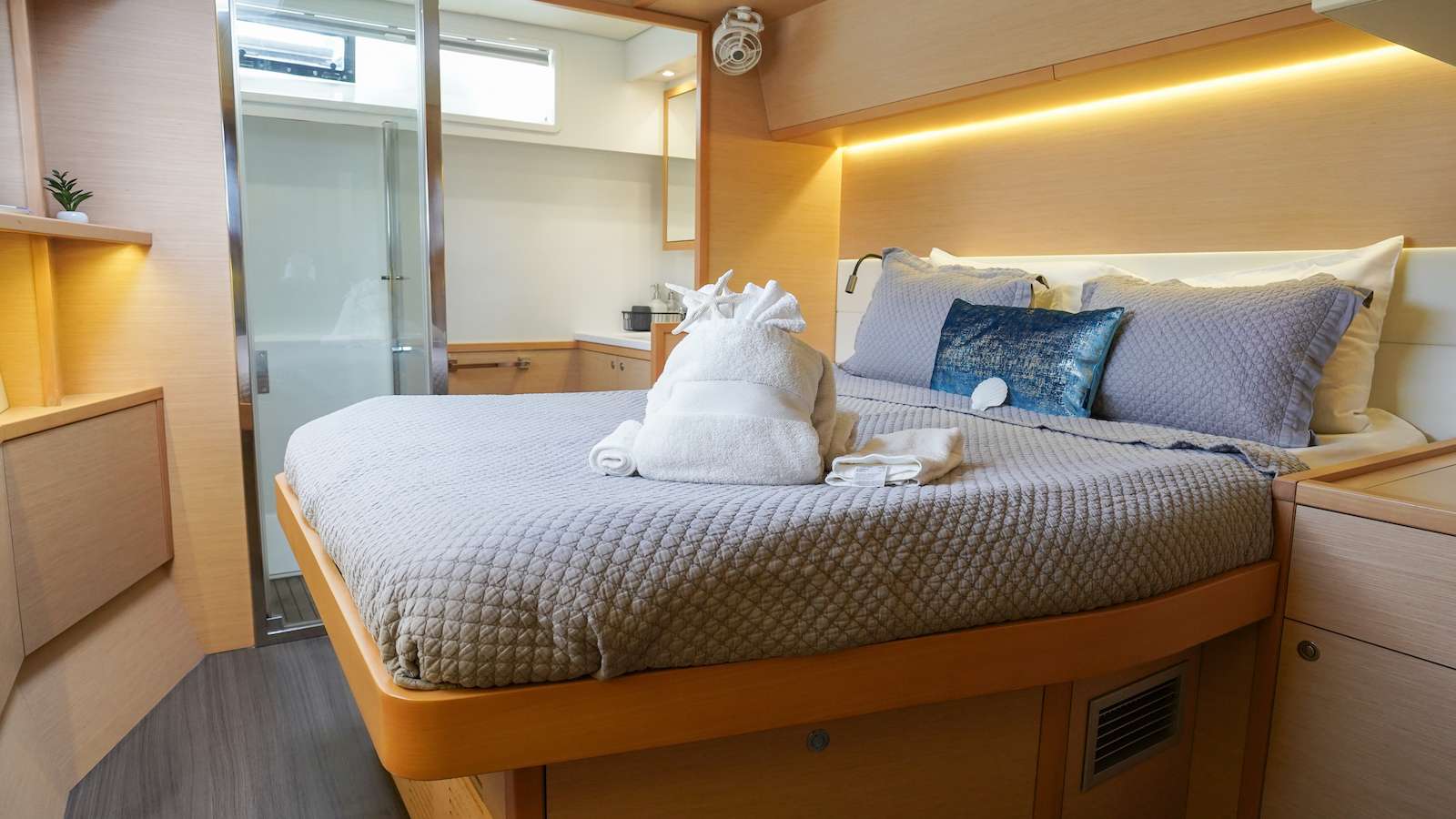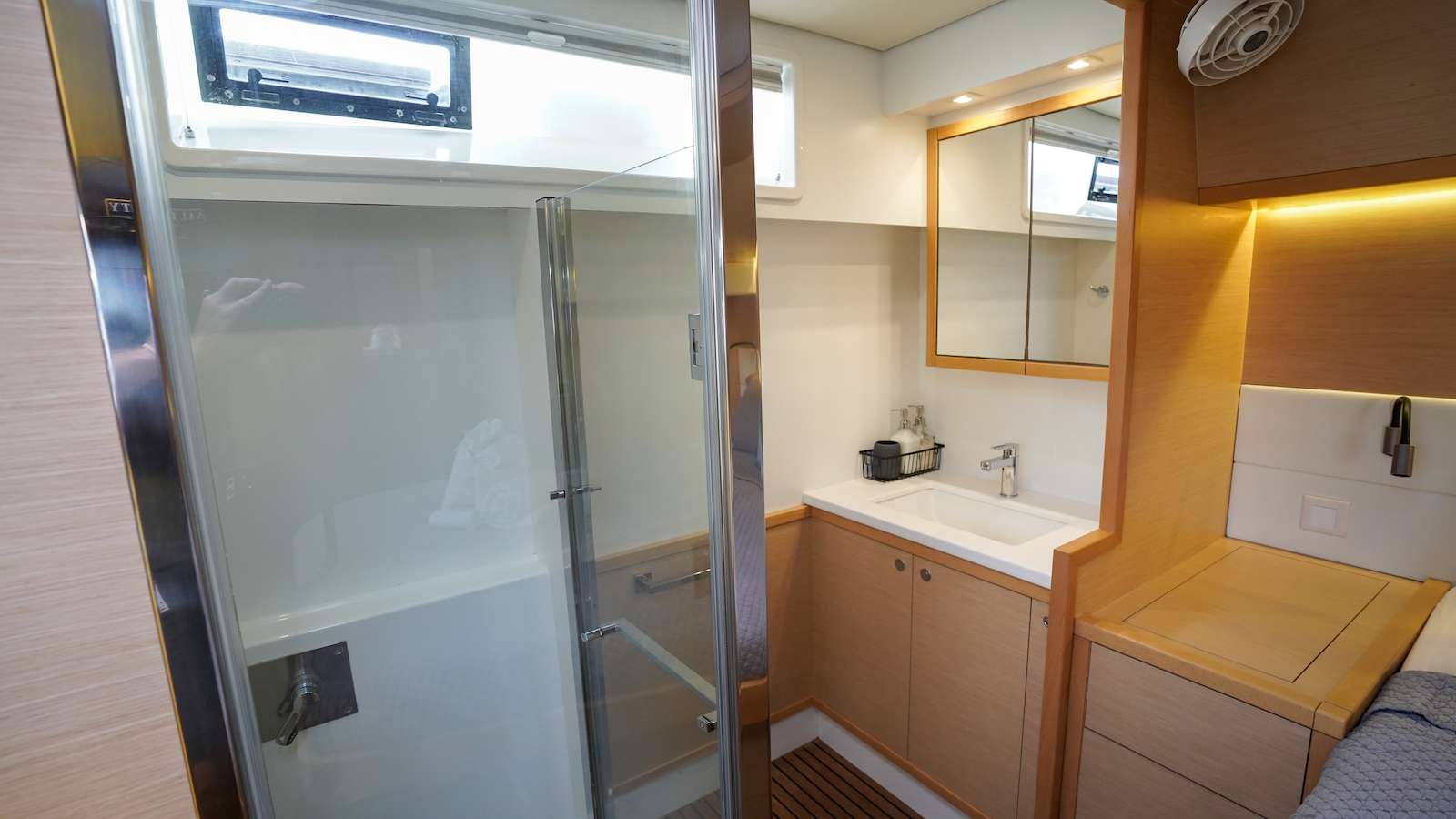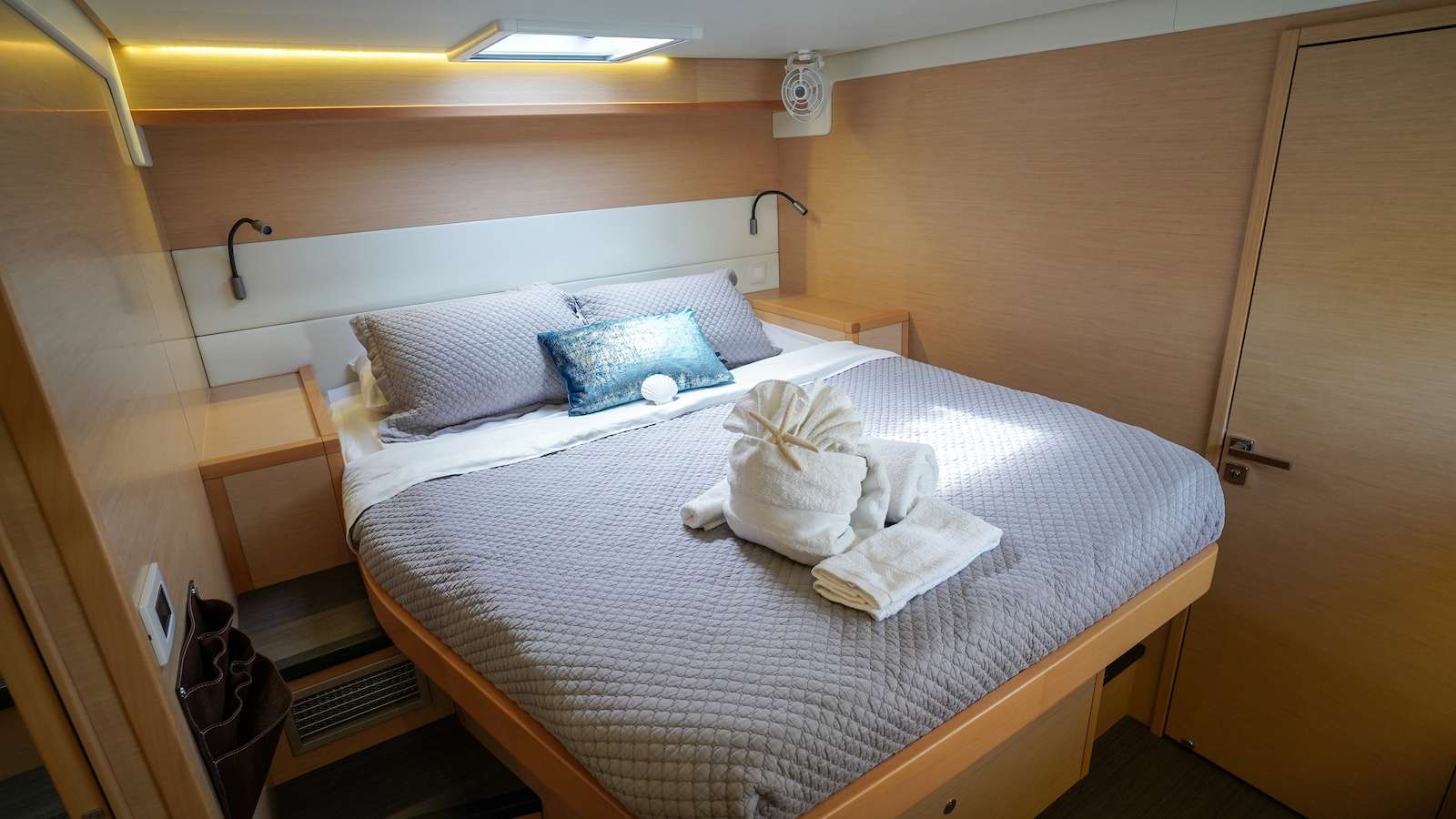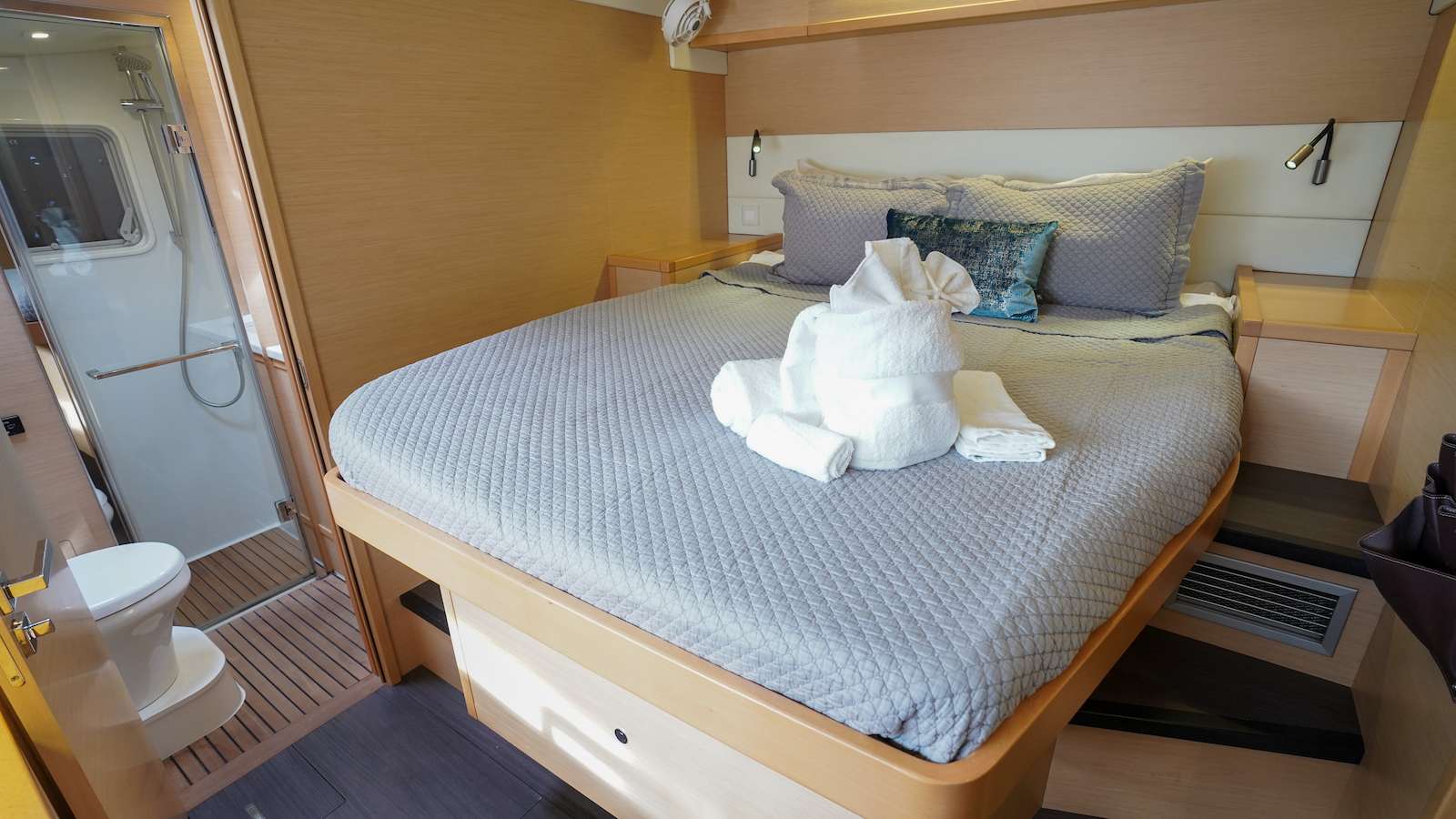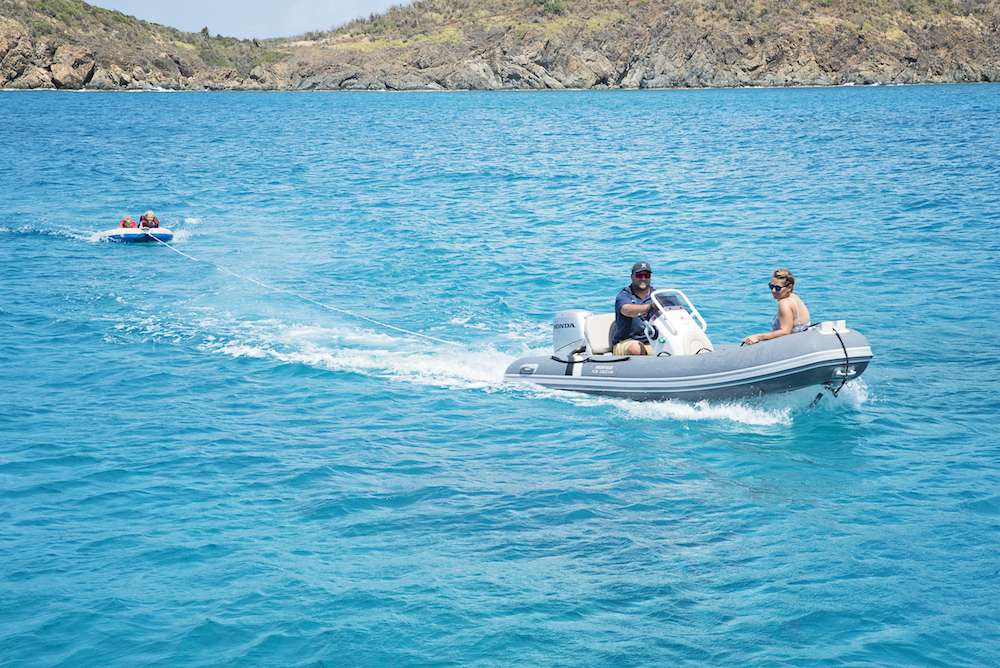 Amenities
Water Capacity:
unlimited
Water Sports
Dinghy Size:
14' Highfield
Swim Platform:
Sugar Scoops
Gear Type:
Trawling, Casting
Other Toys:
2 PaddleBoards
Other Toys:
"L'Occitane" luxury spa items provided in guests' baths. These fantastic Mediterranean inspired, all natural soaps and lotions ensure guests get the full, five-star experience that they deserve.
Communications:
Wifi is available in USVI waters and International waters. Download speeds in foreign countries are not equal to the speeds in the USA.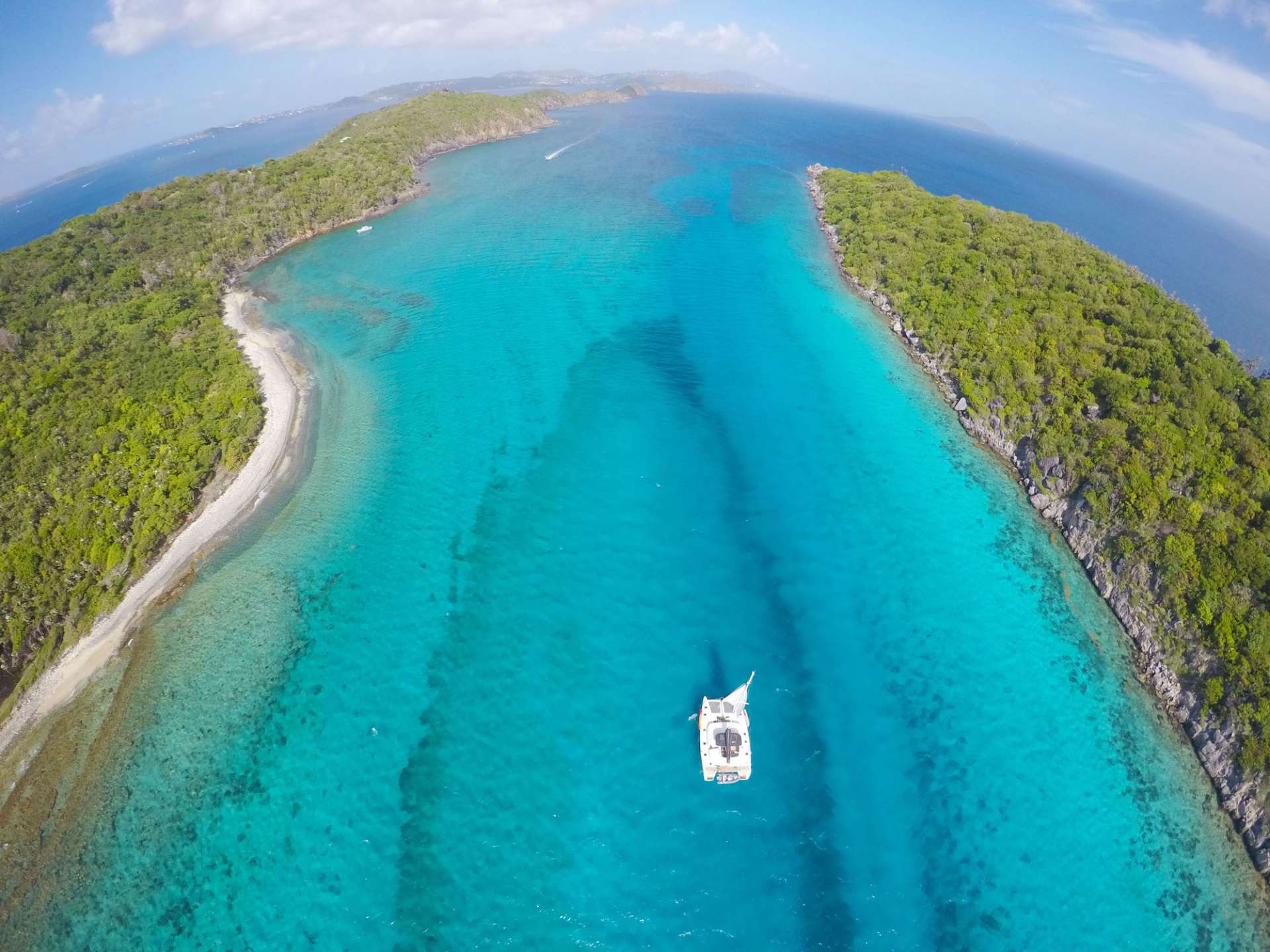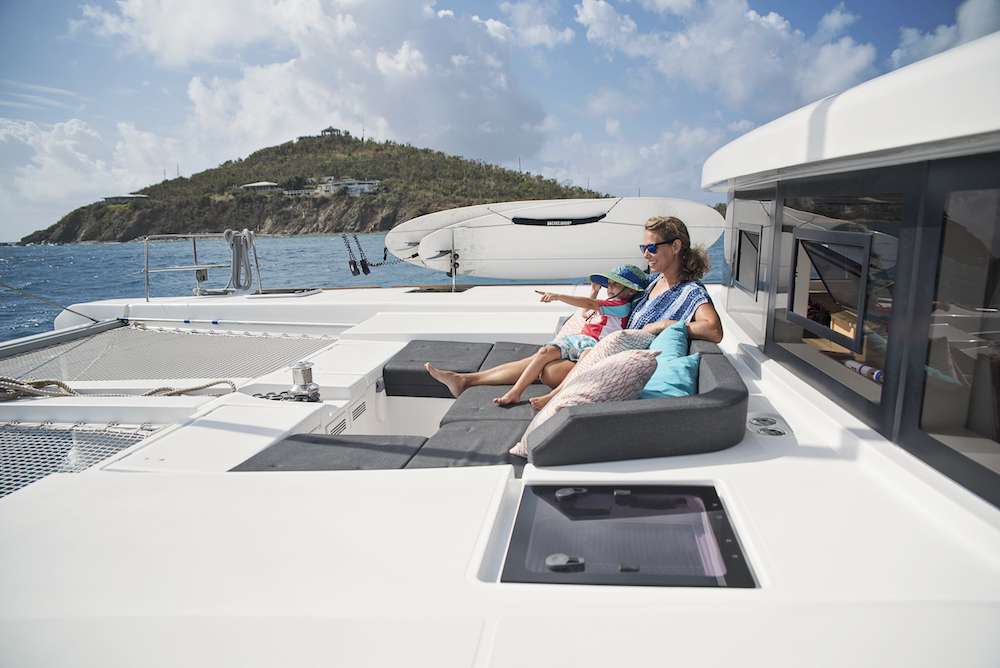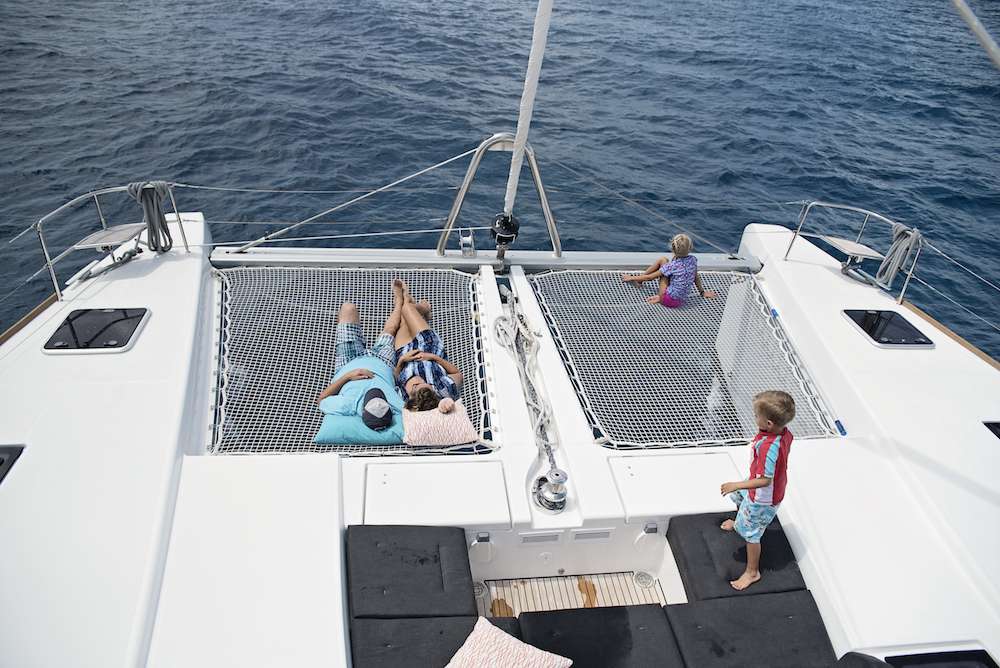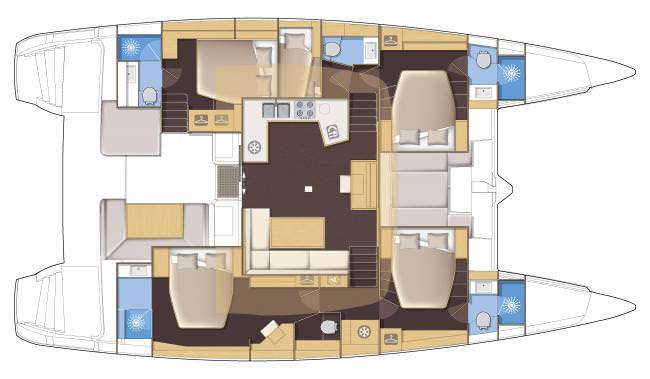 Crew Profile
Starting November 2017:

Ryan and Dani are an award winning duo, amassing a lifetime of experience and knowledge throughout their chartering career to date. These two possess a genuine ability to seamlessly mix fun with professionalism, leaving guests feeling welcome and well-accommodated. Dani and Ryan bring the culmination of their vast career experience to the guests of their newest endeavor, Stop Work Order.

Captain Ryan took to the great outdoors from the very start, growing up in the countryside of Ohio. Whether he was playing football or baseball, boating on the many nearby lakes, or taking family fishing trips to the lakes of Canada, he could be found enjoying what nature had to offer. Ryan brings that same appreciation for the outdoors to his career as a professional charter captain. He holds a 50-ton Coast Guard Credential with a sailing endorsement and gained a wealth of critical knowledge over the past 2 years, captaining a 55-foot sailing catamaran all throughout the Caribbean. Diving is such an extreme passion for Captain Ryan that he has recently become a PADI certified dive instructor with over 200 recorded dives. Ryan is also known to whip up award-winning cocktails, having won Best Cocktail at the Fall VICL Yacht Show 2 years in a row!

Chef Dani brings along an adventurous spirit that is bound to rub off on those around her. Also growing up in Ohio, she spent her time being very active whether it was playing softball, golfing, fishing or, most of all, being in or near the water. Her love of the water carried over as she spent time on her high schools swim team, with friends on Lake Erie, or in her backyard pool. Her first trip to the Virgin Islands at age 17 made her realize that one day she would trade the ponds, lakes, and chlorine for the open ocean. She made that trade in 2012 and has been immersing herself in the Caribbean culture ever since. For the last 2 years she has been the chef aboard a 55 foot sail catamaran, honing her culinary skills and delighting her guests taste buds with a wide range of cuisines. Over the course of the last 2 years she has become proficient in many different culinary styles such as vegan, vegetarian, pescatarian, and kosher, just to name a few. Her attention to detail and great sense of humor leaves her guests well-fed and entertained! She is up for any challenges to create new and exciting meals that fit her guests preferences and desires.

Ryan and Dani are excited to deliver high-end vacations to their guests, offering friendly, personable service and professionalism that matches the luxury, comfort and accommodation of their newest venture, Stop Work Order. Over the course of the last 2 years they have sailed over 3,500 nautical miles spanning all the way to Grenada. Their passion for people, love of the water and sailing creates both an adventurous and a welcoming environment felt by all.

-----------------------------------------------------------------------------------

Current Crew (temporary, April 2017-August 2017):

Captain Cliff and Chef Christian come together to offer incredible Summer 2017 charter vacations on the brand new 52 Lagoon, Stop Work Order. Christians bubbly personality and natural abilities as a hostess and incredible chef are well-complemented by Cliffs impressive knowledge, mechanical prowess and a laid-back approach that will put any guest at ease.

Captain Cliff Rickman is no stranger to the Virgin Islands charter industry. Over his 15-year span in the Virgin Islands, Cliff worked as a captain, dive master, deckhand, mechanic and chef, to name a few. Cliff captained successful charter operations on the popular catamaran Frangines in 2013-14, and has since been making his mark throughout the US and Caribbean. His most recent work includes running mega yachts in the Bahamas and Caymans, and executing deliveries to and from Florida throughout the Caribbean, all while still finding the time to upgrade his qualifications. He returns to the Virgin Islands with ambitions of creating more success and building on his already impressive resume. Cliffs well-versed background in the industry shaped him into a complete package, ensuring success in any of his endeavors.

Hailing from sailing-centric Annapolis, Maryland, Christians origins are in the maritime community. It was here that she fell in love with the beach, tall ships and the ocean. Making her way down the coast, she studied psychology at UNCW and following graduating in 2006, it was a cheap one-way ticket and the dream of being an island girl that brought her to St. John, Virgin Islands. It was in the Virgin Islands that Christian fell in love with and learned to respect the beauty of sailing. Her passion for hospitality, food, health and wellness is what eventually brought her to study holistic culinary nutrition at Bauman College in Berkeley, California. Once becoming a certified natural chef Christian worked with private clients in San Francisco. Christian focused on meal planning formatted to clients with health conditions and special dietary needs. Homesick for the island, she returned to St. John in October 2016 just in time to help with the splash of Pizza Pis second season. Being a chef for a full season on the water made it clear that pursuing a job as chef/first mate for term charters was the just the direction she needed. Christians friendly, energetic personality and passion for all things travel, water & yummy food is just an added bonus on a sail through the stunning Virgin Islands.

Cliff and Christian are certain to show guests 5-star service, lots of laughs and personalized experiences that will build legacy charters. We welcome their great attitudes, robust backgrounds and genuine love for people, yachting and sharing once in a lifetime experiences. Cliff and Christian are excited to help introduce Stop Work Order to the Virgin Islands charter industry!